Behold The iPhone 8, Bearer Of Good News – Seeking Alpha
A while ago, I wrote an article titled "Apple: iPhone 8 Will Be The iPhone Steve Jobs Wanted." In that article I speculated that Apple (NASDAQ:AAPL) could go for radical changes in its iPhone 8, up to a point where nothing else in the market had achieved yet. In simple terms, Apple could go for an all-enclosed, all-glass iPhone. The technologies, as I described, were in place to allow it. I also estimated that such a radical cycle would increase optimism for Apple stock, though the optimism arrived earlier than I thought. Finally, I estimated that right around now we'd start to know what was actually coming from Apple.
Well, we've now arrived at that point in time where we can finally make educated guesses, based on varied supply chain leaks (I, II, III). This article will thus cover the upcoming Apple iPhone range, with a particular focus on the fabled iPhone 8. As always, Apple is for the most part the iPhone – the iPhone should represent around 80% of Apple's entire profit base. Based on the range I am going to describe, investors can make up their mind on whereas this range will keep the iPhone's, and Apple's, success undisturbed. Here it goes.
The Range
There will be two legs to the range:
The iPhone 7s leg. These will be two models, with 4.7″ and 5.5″ LED displays. They will likely entirely share the design with the existing iPhone 7. They're also likely to share pricing. There will certainly be internal improvements, but for the most part these models will look boring given that they'll be on the 4th year of a very dated design.
The iPhone 8 leg. This is where the radical changes will happen. It deserves an entire section. If there's sales growth to be had, it will come from this model.
The iPhone 8
Preliminarily, here's what we can say about the iPhone 8:
It will have an OLED display, sourced from Samsung.
The display will have 5.8″ of viewing area. This area will consist of a 5.2″ main area and another smaller slice dedicated to specific icons and functions, akin to the new Macbook Pro Touch Bar.
The actual phone will be the same size as the iPhone 7/7s 4.7″ model. Thus, it should have dimensions of 138.3mm x 67.1mm (5.44″ x 2.64″).
The display will be flat but using 2D glass, tapering slightly into the corners.
Obviously, if the phone has a 5.8″ display on the same body as the 4.7″ model, the bezels are much smaller. From my work, I estimated existing bezels as adding up to 34.2mm on top plus bottom, and 8.6mm on both sides (added up). To have a 5.2″ display with the same display ratio (9/16) on the same body, this implies the size bezels will be down to ~2.4mm, or ~1.2mm on each side. Further work shows that the function area, which will further extend the main display area, will be 17.2mm high and 64.8mm wide (same as the rest of the display). As a result of this function area, the top and bottom bezels will add to ~6mm.
For Apple to simplify the iPhone 8 design, I expect the top and bottom bezels to be slightly asymmetrical. Thus, I'd expect a 1.2-2mm bottom bezel and a 4-4.8mm top bezel. This will make the top bezel large enough to contain the speaker, sensors and selfie camera.
The bezels are so tiny that Apple will make use of a under-the-display sensor to read fingerprints. Or, if such isn't ready on time (the reason Samsung will keep the same out of the Samsung S8), it will use facial recognition as an alternative.
I expect a 1080p display on the 5.2″ main display, which will then be extended to the function area (so 1920px+ on height and 1080px on width). A close prediction should be 2208px by 1080px. This keeps compatibility at the highest possible levels (since the main display area keeps the same display ratio as existing iPhone as well as the 1080p resolution of the Plus models). However, it might (should) mean the function area won't actually play content, though it will be programmable.
The 1080p resolution is dictated both by the larger main display (5.2″ versus 4.7″) and by OLED's nature if it uses a diamond matrix (typical of Samsung displays). However, possible delays might have to do with Apple specifying a regular RBG matrix – the larger display would still argue for 1080p anyway.
It will have a glass back. It should also have wireless charging as a result.
It will be somewhat delayed (~2 months versus the iPhone 7s) on account of the display and/or fingerprint reader.
It will inaugurate a new, higher, price point. I had already written about this in my article titled "Apple: An Unexpected Positive Appears." This might be as high as $999, but there's room for it to be somewhat lower than that while still providing increased margins as the increase in cost is not proportionate.
It will have a stainless steel chassis, which should be flush with the glass.
It will have a larger battery than the iPhone 7 4.7″, which together with the more-efficient display will lead to longer battery life.
A couple of concept renders capture my description above, right down to the larger bezel on top to accommodate the speaker and sensors: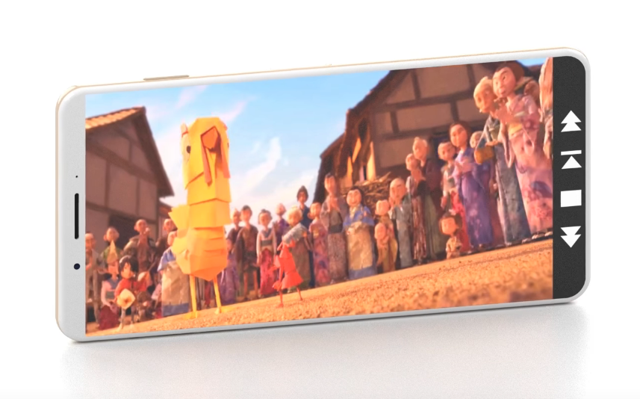 Source: Youtube; Tech Driven Times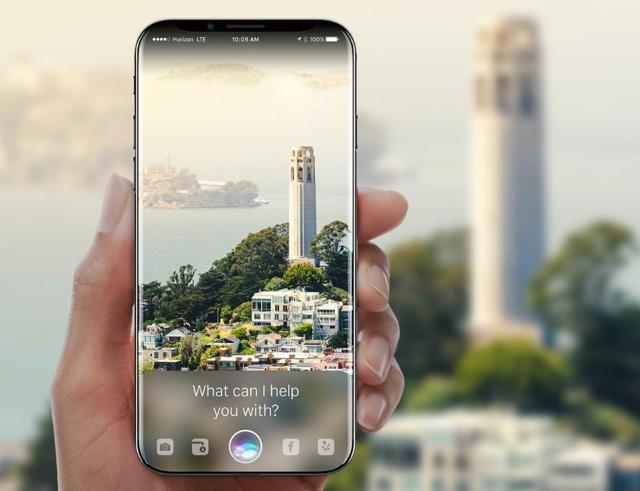 Source: Gaborbalogh.myportfolio.com
So there you have it. The iPhone 8 will use several of the technologies I had already spoken about, but not all of them. It thus won't be all-glass though it will have a glass front and back. Its display will fill the entire front of the device, in a way reminiscent of the also-incoming Samsung S8 but to an even larger extent.
The new design and display will be the main selling point on the more-expensive iPhone 8. It should be strikingly beautiful, on a par with Samsung phones. Longer battery life (on account of a larger battery and more-efficient display) will also factor in.
There's also talk about AR (augmented reality) applications being used as a selling point – however this selling point should be present across the range (and perhaps even be extended a few generations back). Providing new software use cases is usual with Apple. Also, Apple has been talking up AR versus VR (virtual reality).
The most likely such applications would be something along what Google (NASDAQ:GOOG) (NASDAQ:GOOGL) already provides with its not-that-well-known Google Goggles app. That is, Apple is likely to field an app able to recognize all sorts of stuff including:
Places
Products
Landmarks
Instant translation (Google separates this into Google Translate)
Bar codes
QR codes
Etc, etc.
The technology is fully developed (and has been, for a while), so there's no reason for Apple not to include its own fully-functional version. This is akin to how it introduced Siri, based on already-existing technology and apps.
Conclusion
Apple is (still) the iPhone. As such, any iPhone release is critical for its success.
The coming iPhone release will introduce a radical model (the iPhone 8) along with the already well-known design from the iPhone 7, probably now labeled the iPhone 7s and featuring incremental internal improvements.
The iPhone 8 will have as main selling points an OLED display filling nearly the entire front side. This display will be prettier (better contrast, higher color saturation), higher resolution, consume less power and be larger than on the previous similarly-sized iPhone 7. It will also feature a display function area (below the main display).
The iPhone 8 will be the same size as the iPhone 7s (not the Plus). It will be somewhat late and be significantly pricier. The price will increase more than proportionately to costs, so it will enjoy higher margins.
In my subjective view, the iPhone 7s line will do terribly except for budget-minded buyers. It's on its fourth year and internal improvements just won't be able to make it fly, plus it will scream "old iPhone" next to the iPhone 8. However, the iPhone 8 should more than compensate because:
It will be radically different and strikingly more beautiful.
It will be very evidently "the new iPhone", forcing status-conscientious Apple fans to buy it.
It will be an additional model (so Apple will be selling 3 late-model iPhones).
It will offer a lot of display real-estate for the size, a first for Apple, along with longer battery life (always a sought-after feature).
It will be pricier and offer higher margins.
Overall, the event looks like a very large positive, but somewhat anticipated event, for Apple. The overall picture seems able to produce measurable (over 10%-15%) iPhone growth into 2018 – thus making Apple's next-year revenue growth consensus at +7.5% seem too small.
The main risk for Apple from this launch is simply "price rebellion." This is mitigated by the fact that both Samsung and Google will be trying to do the same simultaneously (increase the entry point for their latest flagships).
Another possible risk is that smartphone saturation might be upon us. Flagship models from as far back as 2-3 years ago still run today's software with aplomb.
CommentsWrite a Reply or Comment: