New York, New Jersey lifts travel ban; New England braces for major snowstorm – Fox News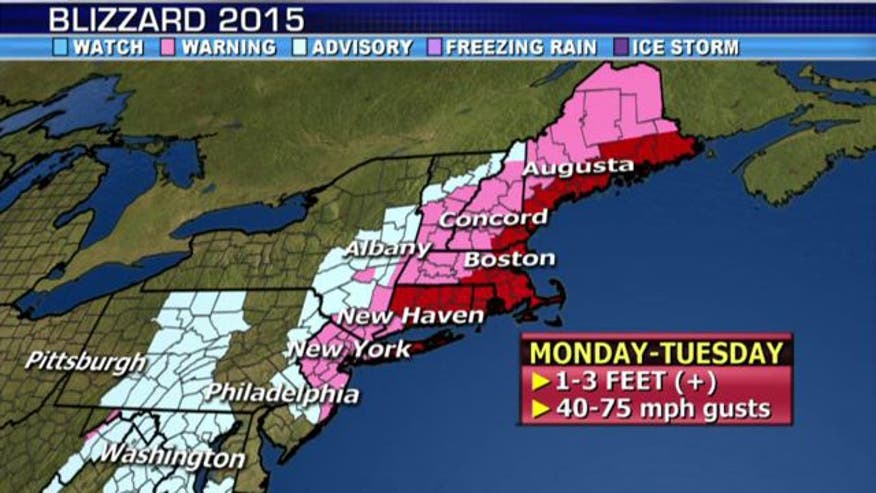 Millions across the Northeast were told Tuesday to stay home from work and school, even as forecasters revised predictions that had originally called for record-breaking amounts of snow in some of America's biggest cities.
The blizzard had originally been predicted to bring between 2 and 3 feet of snow to an area stretching from northern New Jersey to southern Maine, along with hurricane-force winds. However, by early Tuesday, most forecasters said that only New England would bear the brunt of the storm, and even then the snowfall would not be as bad as expected.
New York Gov. Andrew Cuomo lifted the travel ban for Hudson Valley, Nassau County and New York City. The MTA, which operates the city's subway and bus system, shut down service at 11 p.m. Monday, but announced service would resume at 9 a.m. Tuesday.
We are lifting all the travel bans on the roads at 8am. We're coordinating with neighboring states. http://t.co/xfDQQXNMY2

— Andrew Cuomo (@NYGovCuomo) January 27, 2015
New Jersey Gov. Chris Christie lifted the ban on travel statewide at 7:30 a.m. Tuesday. The restrictions were put in place on Monday night to aid plowing.
Service remains suspended on all New York and New Jersey commuter train and bus lines. But New York City buses, subways and trains are expected to restart sometime this morning.
Meanwhile the storm continues to pound eastern Massachusetts, Rhode Island, eastern Connecticut and eastern Long Island, where accumulations could reach 2 feet.
Plz RT: Live along the coast, or know someone who does? This coastal event is comparable to Feb 2013 blizzard: pic.twitter.com/eCnuJGxA02

— NWS Boston (@NWSBoston) January 26, 2015
Areas of Massachusetts received more than a foot of snow overnight and snowfall is expected until late afternoon on Tuesday. 
Massachusetts Gov. Charlie Baker said most for part, his travel ban worked crediting people for staying off the roads. "Take morning to dig out," he said.
Officials in Framingham said the Pilgrim power plant has been shut down due to storm, adding the plant can last on generators for about a week. They did not estimate when it would reopen, but said the goal was to get transmission lines back up as soon as possible.
Baker said the travel ban may be lifted at some point Tuesday. The next update is expected at noon.
Philadelphia, initially predicted to get about a foot of snow, got about an inch. Boston is virtually shut down, but places farther south are reopening.
Amtrak suspended service north of New York and reduced its schedule for trains operating south of New York. Northeast Regional and Acela Express services are operating on a reduced schedule between New York and Washington.
Maine Gov. Paul LePage declared a state of emergency and announced that all state offices are closed Tuesday. LePage cites the forecast for winter storm and blizzard conditions, as well as the potential coastal flooding in southwest Maine.
The snowstorm affected air traffic across the US. FlightAware reported that 4,615 flights, or about 15 percent, were cancelled due to the storm. As of Tuesday morning, John F. Kennedy International, LaGuardia and Newark were all open, but many airlines have cancelled service. They are all experiencing minimal flight activity.
The Associated Press contributed to this report
CommentsWrite a Reply or Comment: