Secret Service: 'Quadcopter' drone crashed onto White House grounds – Fox News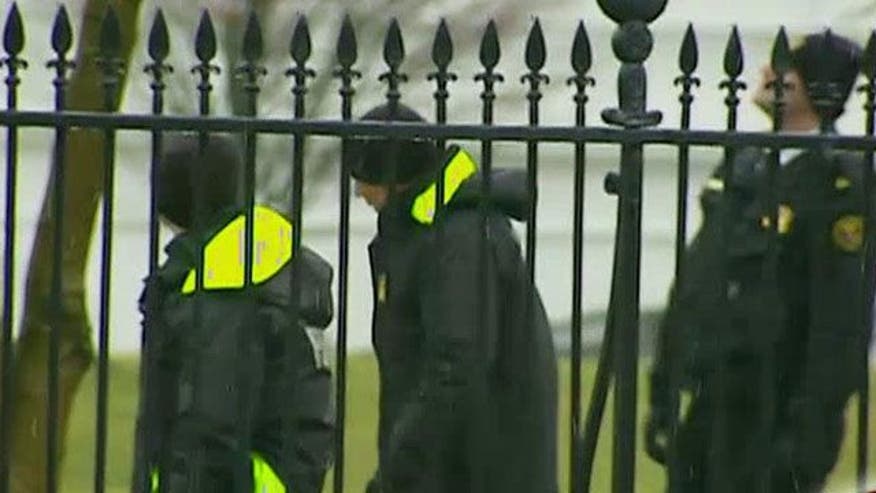 WASHINGTON –  A two-foot-long "quadcopter" drone crashed onto the White House grounds overnight, triggering an immediate lockdown as well as a Secret Service investigation into where the mysterious device came from. 
Brian Leary, a Secret Service spokesman, said that an officer posted on the south grounds of the White House complex "heard and observed" the device "flying at a very low altitude" shortly after 3 a.m. ET. Leary said the drone ultimately crashed on the southeast side of the complex. 
Though the White House says the device posed no threat, it is the latest in a line of security incidents at the complex. 
"An investigation is underway to determine the origin of this commercially available device, motive, and to identify suspects," Leary said. 
The "device" was found while President Obama and first lady Michelle Obama were traveling in India. It was unclear whether their daughters, Sasha and Malia, were at home at the time of the incident with their grandmother, Marian Robinson, who also lives at the White House. 
Many small quadcopters are essentially sophisticated toys that can also be used for commercial activities like aerial photography and inspection. Often weighing only a few pounds, they sell for as little as a few hundred dollars or less, and were popular Christmas gifts last year. More elaborate models sell for thousands. 
White House Press Secretary Josh Earnest, speaking in New Delhi, acknowledged a "device" was found. 
"The early indications are that it does not pose any sort of ongoing threat to anybody at the White House," he said.  
MyFoxDC.com also reported that radio transmissions at the time of the incident indicate crews were called because of a reported "drone." 
Police, fire and other emergency vehicles swarmed around the White House in the predawn hours, with several clustered near the southeast entrance to the mansion. The White House was dark and the entire perimeter was on lockdown until around 5 a.m., when those who work in the complex were allowed inside. 
After daylight, more than a dozen Secret Service officers fanned out in a search across the White House lawn as snow began to fall. They peered down in the grass and used flashlights to look through the large bushes that line the mansion's driveway. 
While the circumstances of this incident were not immediately clear, previous security breaches at the White House have led to questions about the Secret Service's effectiveness. 
Four high-ranking executives were reassigned this month, and former director Julia Pierson was forced to resign last year after a Texas man armed with a knife was able to get over a White House fence in September and run deep into the executive mansion before being subdued. 
The Associated Press contributed to this report.
CommentsWrite a Reply or Comment: