Intel upgrades the Edison – bit-tech.net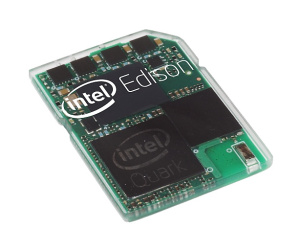 Intel's Edison has undergone a significant redesign since CES, dropping the Quark chip for an Atom and losing its SD card form factor – although the original design may yet hit the market.

Intel has announced an upgrade to its yet-to-launch Edison embedded computing platform which looks more like a ground-up rethink of the whole project, ditching the company's flagship Quark processor for tried-and-tested Atom and losing the tiny SD card form factor.
Intel unveiled Edison in January of this year as part of its renewed focus on embedded and particularly wearable computing technologies. Prototype-proven and in a product-ready design, Intel claimed at the time, Edison was the second outing for the company's low-power Pentium-based Quark processor which had previously launched in the hobbyist-oriented Galileo development board.
Now, Intel has announced a redesign which loses the two unique features of Edison: its SD card form factor and its Quark processor.
The shift sees Intel swap the Quark chip out in favour of a 22nm Atom processor based on the Silvermont architecture. A dual-core design running at 500MHz, the Atom will give considerably improved compute performance compared to the Quark, but requires a separate microcontroller unit to drive the input-output portions of the board.
The shift to Atom also does away with the SD card size of Edison, and while Intel hasn't confirmed precise sizes for the new edition it has admitted that the last-minute shift in architecture means the new Edison will be 'slightly larger' than the design chief executive Brian Krzanich showed off at the Consumer Electronics Show earlier this year.
The Atom-based Edison won't replace the planned Quark version, Intel claims, but instead augment it as part of a new Edison-branded range of products. 'We have received an enthusiastic response from the pro maker and entrepreneurial communities, as well as consumer electronics and industrial IoT [Internet of Things] companies,' claimed Intel's Michael Bell of the move, 'and have decided that in order to best address a broader range of market segments and customer needs we will extend Intel Edison to a family of development boards.'
Intel has not yet confirmed availability or pricing for the Atom or Quark variants of the Edison.
CommentsWrite a Reply or Comment: