Official: Debris in sea '95% likely' from AirAsia Flight QZ8501 – CNN
(CNN) — [Breaking news update 6 a.m. ET]
Hospitals in the Indonesian city of Surabaya are being prepared to help house and identify bodies being recovered off the coast of Borneo from a site where Indonesian officials think they've found debris from AirAsia Flight QZ8501, a search team official said.
[Full story]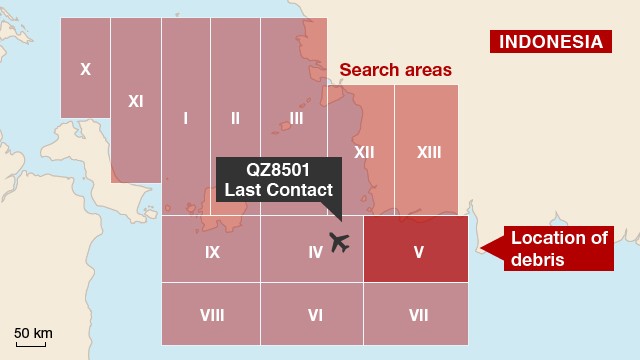 Search zone where debris was found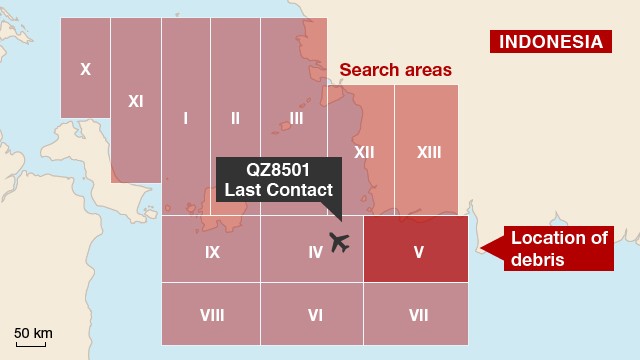 Search zone where debris was found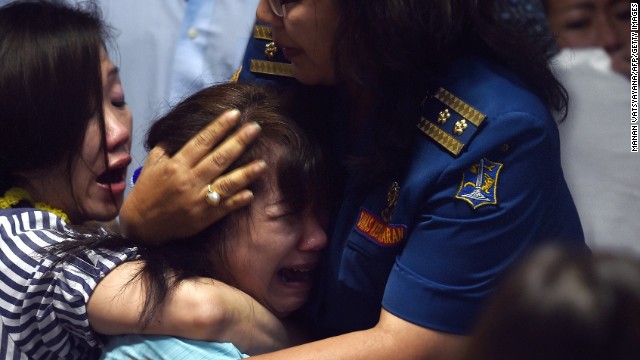 Family members of passengers onboard the missing AirAsia flight QZ8501 in visible distress after watching news reports of the search for the airliner at Juanda International Airport in Surabaya.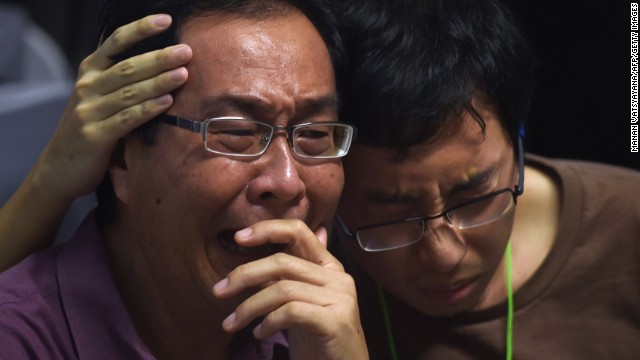 Relatives at Juanda International Airport in Surabaya comfort each other after hearing officials say they're "95% sure" debris is from missing AirAsia flight QZ8501.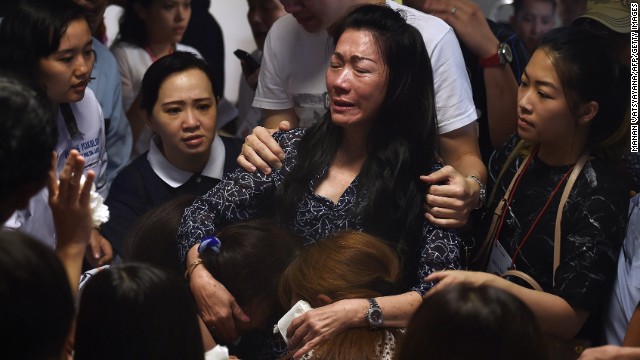 Relatives gather at Juanda International Airport in Surabaya awaiting news of loved ones who among the 162 people onboard the missing airliner.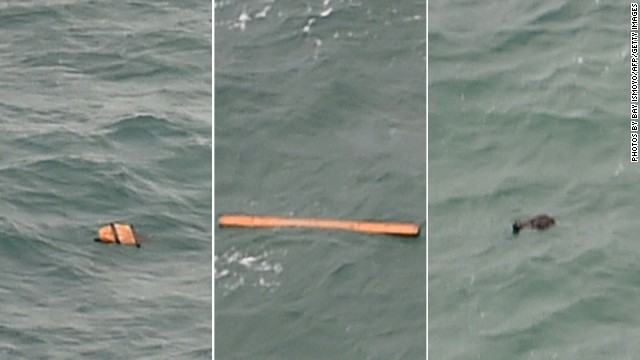 This aerial view taken from an Indonesian search and rescue aircraft over the Java Sea shows floating debris spotted in the same area as other items being investigated by Indonesian authorities as possible objects from missing AirAsia flight QZ8501 on December 30, 2014. Dozens of planes and ships have been searching Indonesian waters for the missing AirAsia jet carrying 162 people that lost contact with Indonesian air traffic control early Sunday.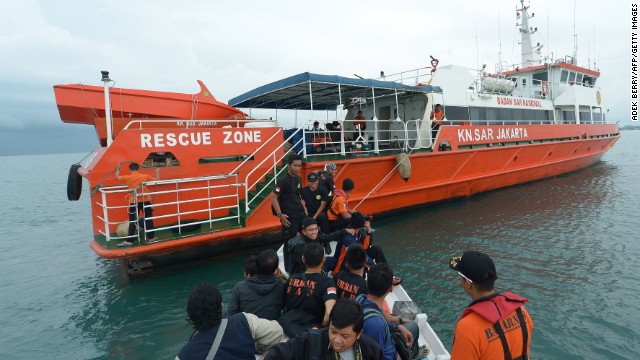 An Indonesian search and rescue team prepares to search at sea on December 30 for the missing AirAsia Flight QZ8501 from Manggar on East Belitung.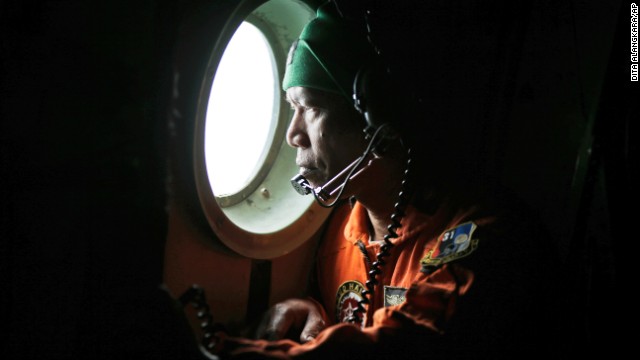 An Indonesian military airman looks out the window of an airplane during the search for missing AirAsia Flight QZ8501 over the waters of Karimata Strait in Indonesia on December 29.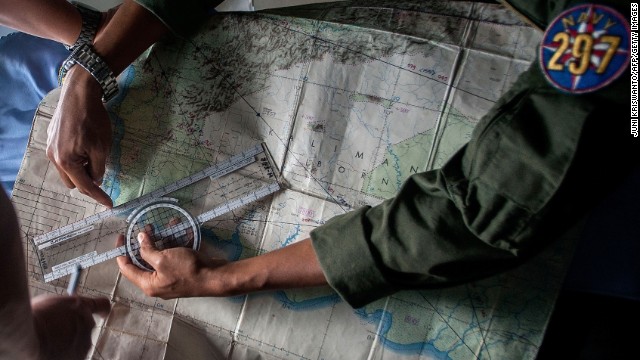 Indonesian army personnel read a map during a search operation over the waters of the Java Sea on December 29.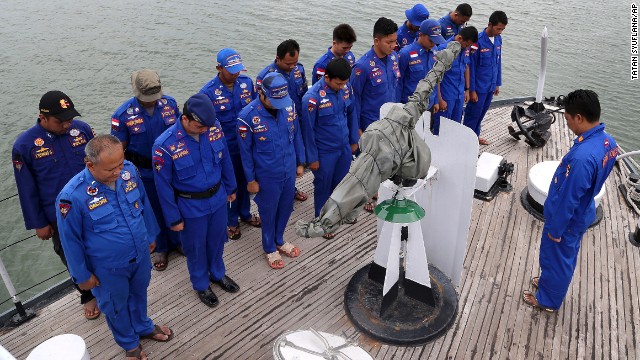 Members of Indonesia's Marine Police pray before a search operation for the missing jet on December 29.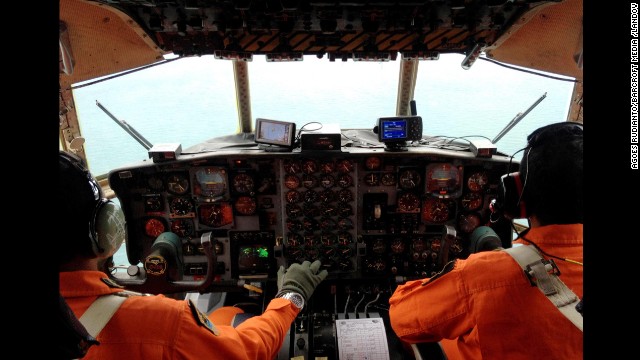 Military personnel perform a search operation to the point where the jetliner lost contact.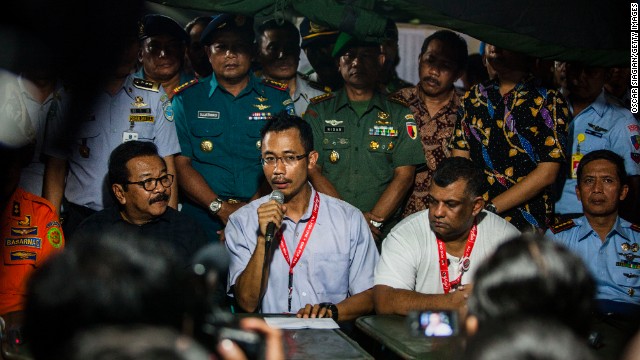 Sunu Widyatmoko, CEO of Indonesia AirAsia, gives a press conference in Surabaya, Indonesia, announcing that the flight lost contact with air traffic control.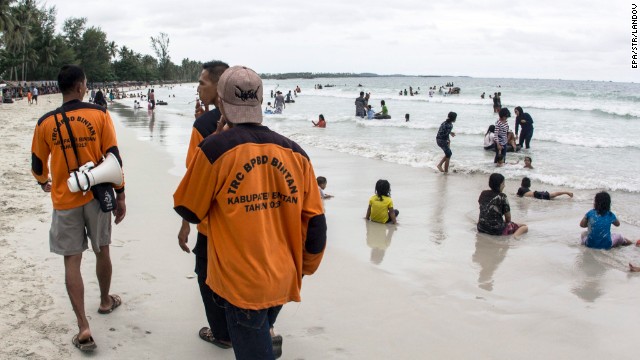 Members of the Indonesian Regional Disaster Management Agency walk at a beach as they search for the missing plane.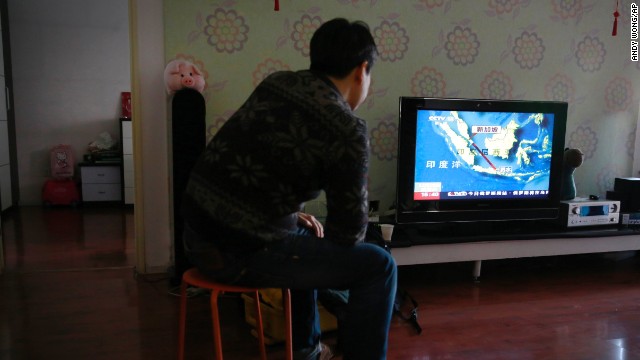 Jiang Hui, whose relatives were on board Malaysia Airlines Flight 370, which went missing on March 8, watches the news about the missing AirAsia flight at his house in Beijing.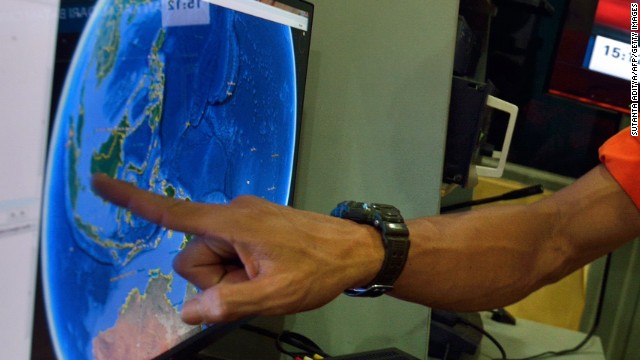 An official from Indonesia's national search and rescue agency points to the position where AirAsia Flight QZ8501 went missing. Before communication was lost, a pilot asked to deviate from its planned route — from the Indonesian city of Surabaya to Singapore — because of bad weather, officials said.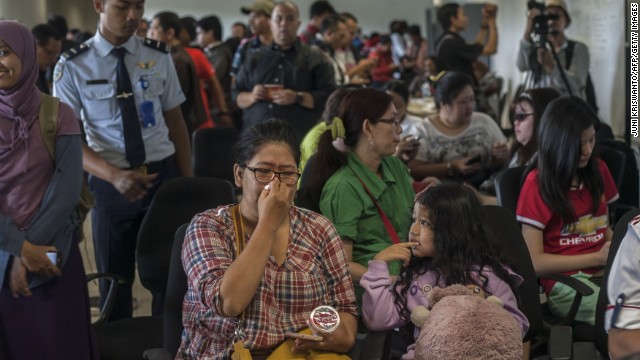 The aircraft went missing as it flew over the Java Sea between the islands of Belitung and Borneo, according to Indonesian authorities, who are leading the search and rescue operations.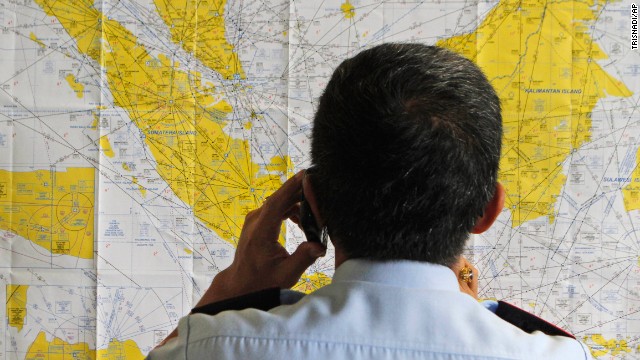 An airport official checks a map of Indonesia at the crisis center for the missing flight, set up by local authorities at Juanda International Airport.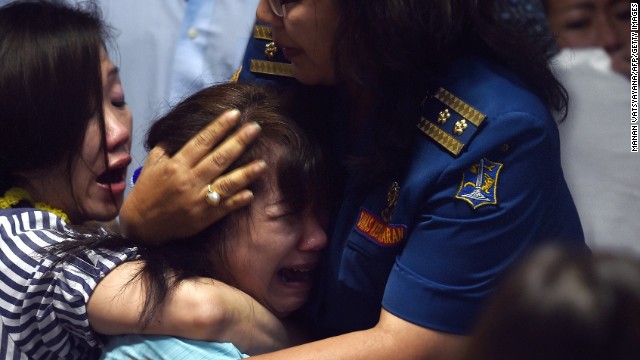 Photos: Relatives distraught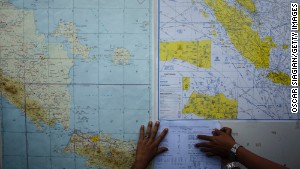 Search expands for missing AirAsia plane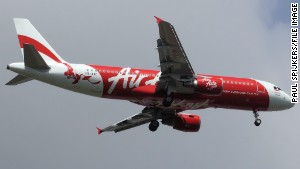 New audio of Flight 8501 before takeoff
After three days of intense searching for AirAsia Flight QZ8501, Indonesian teams made the grim discovery Tuesday: debris and dozens of bodies in the waters off the island of Borneo.
The crew on a military aircraft spotted the shadow of an object that looked like a plane in the water, said Bambang Sulistyo, the head of Indonesia's search and rescue agency.
Further searching located floating objects believed to be the bodies of passengers, and then what appeared to be an emergency exit of the plane, Sulistyo told a news conference.
Officials sent other search teams racing to the area.
Media reports said at least 40 bodies have so far been recovered. Hospitals in the city of Surabaya were being prepared to help house and identify them.
The news dealt a heartbreaking blow to relatives of passengers who had been waiting anxiously for information at the airport in Surabaya, the Indonesian city where Flight 8501 began its journey Sunday with 162 people on board.
The plane was carrying 155 passengers and 7 crew members. The overwhelming majority of those on board were Indonesians. There were also citizens of Britain, France, Malaysia, Singapore and South Korea.
There were scenes of anguish as families watched a live news conference about the discovery of the debris and saw video of a helicopter lowering a diver down to what appeared to be a floating body.
Some people fainted and stretchers were taken into the room.
Family members burst into tears, dabbing their eyes as officials passed out tissues. Some sat with their eyes full of tears, hands covering their mouths, or heads buried in their hands. Others had phones jammed against their ears.
'Words cannot express how sorry I am'
"My heart is filled with sadness for all the families involved in QZ 8501," AirAsia CEO Tony Fernandes tweeted. "On behalf of AirAsia my condolences to all. Words cannot express how sorry I am."
He said he was on his way to Surabaya.
Search and rescue teams are diverting all their resources to where the debris is located, authorities said. The area is about 10 kilometers (6 miles) from the aircraft's last known location over the Java Sea, off the coast of Indonesia's Central Kalimantan province on Borneo.
Divers and ships with sonar equipment are being sent to the site, where the depth of the sea at the site varies between 25 and 30 meters, Sulistyo said.
Ships, planes and helicopters have been scouring the sea for Flight 8501 since it went missing on its way to Singapore.
READ: How can a modern airliner vanish?
The Airbus A320-200 lost contact with air traffic control early Sunday shortly after the pilot requested permission to turn and climb to a higher altitude because of bad weather, according to Indonesian officials.
Unanswered questions
Authorities mounted a huge effort to find the aircraft, mapping out a search zone covering 156,000 square kilometers.
Questions remain unanswered about why Flight 8501 lost contact with air traffic control and what happened afterward.
Some experts have speculated that the aircraft might have experienced an aerodynamic stall because of a lack of speed or from flying at too sharp an angle to get enough lift.
Analysts have also suggested that the pilots might not have been getting information from onboard systems about the plane's position or that rain or hail from thunderstorms in the area could have damaged the engines.
The key to understanding what happened is likely to be contained in the aircraft's flight recorders.
"Until we get the black boxes, we won't know what's going on with the engines," Bill Savage, a former pilot with 30 years of experience, told CNN.
'It was to be his last vacation with his family'
Details have emerged about some of the people on board the plane.
They include Alain Oktavianus Siauw, whose fiance says she was on her way to the airport to pick him up when she heard the plane had gone missing.
Louise Sidharta said Siauw was supposed to be enjoying a family vacation before the two got married. "It was to be his last vacation with his family," she said.
Siauw's Facebook page says he lives in Malang, a province in Indonesia.
The disappearance of Flight 8501 also stirred painful memories of the families of people on board Malaysia Airlines Flight 370, which dropped off radar over the South China Sea in March.
Nearly 10 months later, searchers are still combing remote reaches of the southern Indian Ocean for any trace of the Boeing 777 that had 239 people on board.
"The lack of ability to close things down emotionally is just exhausting," said Sarah Bajc told CNN on Monday night. Her partner, Philip Woods, was on board Flight 370.
When news broke that another plane had disappeared this week, Bajc said, "I just started to shake."
CNN's Andrew Stevens, Brian Walker and Khushbu Shah, and translators Azieza Uhnavy and Edi Pangerapan contributed to this report.
CommentsWrite a Reply or Comment: