Rap mogul Suge Knight behind wheel of truck in deadly hit-and-run, lawyer says – Fox News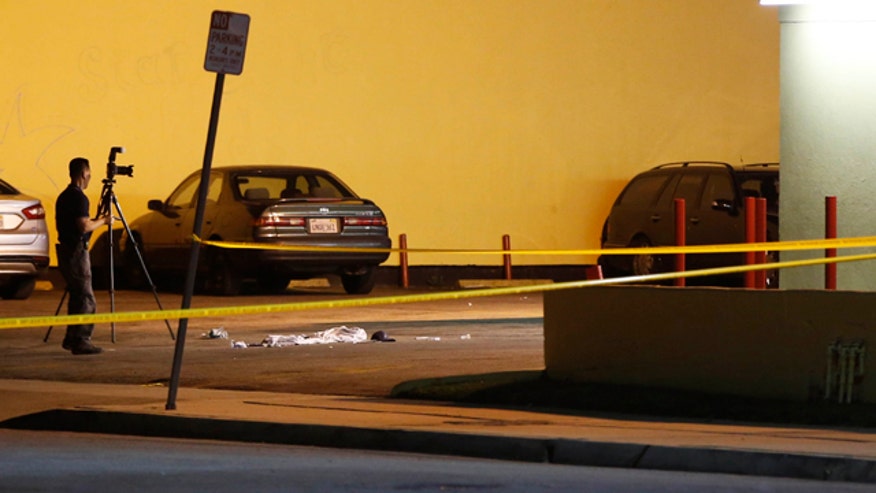 Rap mogul Marion "Suge" Knight was behind the wheel of a truck that struck and killed one man and injured another in a restaurant parking lot Thursday, his lawyer said. 
Attorney James Blatt told the Associated Press by phone late Thursday that Knight planned to turn himself in to authorities and said "we are confident that once the investigation is completed, he will be totally exonerated."
MyFoxLA first reported that Knight was driving the red pickup truck that struck two men shortly before 3 p.m. local time in Compton, Calif., outside Los Angeles. The injured man was taken to a hospital and his condition was not immediately known. No identifying information about either man was available. 
The Los Angeles Times reported that the tragedy stemmed from an altercation that occurred on the set of the forthcoming film "Straight Outta Compton," a biopic about the rap group NWA. Los Angeles County Sheriff's Department Capt. John Corina said that the two men Knight argued with went to a nearby restaurant about 20 minutes after the confrontation 
Corina alleged Knight followed the men there in a red truck and ran them over in the parking lot. Witnesses told the paper the truck hit the men, then backed over them before fleeing the scene. The incident is being investigated as a homicide.
"The people we talked to say it looked like it was an intentional act," Corina told reporters.
However, attorney Blatt claimed it was an accident.
"He was in the process of being physically assaulted by two men and in an effort to escape he unfortunately hit two (other) individuals," the lawyer said. "He was in his car trying to escape."
The empty truck was found late Thursday night in a West Los Angeles parking lot, Corina said.
Knight co-founded Death Row Records with Dr. Dre in 1991 and built it into the first successful mainstream rap label behind acts like NWA, Snoop Dogg, and Tupac Shakur. Knight was at the wheel of the BMW Shakur was riding in when he was shot and killed following a boxing match in Las Vegas. Tupac's death resulted in an exodus of artists from the label, and Knight was eventually forced to declare bankruptcy and auctioned off the company. 
Knight has had repeated confrontations with the law. In 1997, he was sentenced to nine years in prison for violating the terms of his probation in an earlier assault case. He was released in 2001. In 2008, he was arrested in Las Vegas on suspicion of drug possession and aggravated assault and pleaded guilty to a charge of misdemeanor battery the following year. He is currently awaiting trial alongside comedian Katt Williams on charges of second degree robbery in connection with the theft of a photographer's camera. 
The Associated Press contributed to this report. 
Click for more from MyFoxLA.com.
CommentsWrite a Reply or Comment: