Get ready for the other NCAA dance – ESPN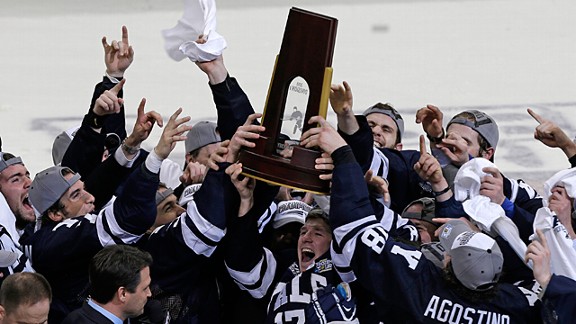 AP Photo/Gene Puskar)Which will be the team to go out in a blaze of glory this year?
The other dance.
Lost in the noise and monstrosity of the NCAA basketball tournament is the other college dance.
College hockey's NCAA tournament field will be established this Sunday at noon on ESPNU. (I will host the NCAA hockey selection show from Charlotte, N.C., in our ESPNU studio.) It is college hockey's sweetest day because only 16 teams qualify, creating an immediate Sweet 16.
Four regional sites (St. Paul, Cincinnati, Worcester and Bridgeport) will host three games each the following weekend to determine a Frozen Four in Philadelphia, which takes place April 10-12. (Barry Melrose and I will do the play-by-play for the Bridgeport, Conn., region and then the Frozen Four.)
Unlike the NCAA basketball tournament that invites LOTS of frivolous teams with NO chance of winning, the NCAA hockey tournament, as we saw last year, has many more realistic dreamers: UMass-Lowell, St. Cloud State, Quinnipiac and Yale made up the Final Four in Pittsburgh last year. That just wouldn't happen in basketball.
As the U.S. and Canada continue to produce more and more athletic hockey players, the play gets faster and more exciting while the field gets deeper. Parity does not always mean an evening out of the excellence. In fact, in some cases parity exists because there is less excellence and widespread poor play. In college hockey, the parity is a result of MORE excellent players and better games of speed and skill.
For a couple of teams in this year's NCAA hockey tournament, about 50 percent of the roster will get a chance to play in the NHL. What other NCAA sport can say its teams will have half their rosters make it to the highest level of its profession? Certainly not football, basketball or baseball.
Once the tournament field is set, we will break down the brackets by region, highlighting the players that you NHL fans might want to keep an eye on and what time and what ESPN network the game is on. For instance, if you are a Columbus Blue Jackets fan, you have to watch Minnesota defenseman Mike Reilly. Buffalo Sabres fans will want to watch Michigan's J.T. Compher and Minnesota's Hudson Fasching — they might be on the same line in Buffalo in two to three years. New York Rangers fans will want to scope out Brady Skjei (Shea), who plays like Marc Staal (which means Staal might end up in Carolina to join his brothers someday). And Philadelphia Flyers fans will want to check out Union's Shayne Gostisbehere and try to figure out when he could be on Philly's power play and be as productive as the Boston Bruins' Torey Krug.
It's an awesome hockey tournament where you can enjoy the games, root for your school or adopt one and think about how some of these players will perform at the NHL level. There is so much to offer. (And, oh yes, there will be #bucciovertimechallenge fun.)
What the tournament also has to offer is the student-athlete who will NOT play at the next level. He will get a degree from a good school and move on. These will be the most important games of his life.
Since he was 5 years old, he has pulled on skates and snapped on helmets. He has played mini-sticks in hotel hallways and in Mom's kitchen. He has power skated, gone to hockey camps, eaten 10,000 slices of arena pizza and spent countless hours on outside ice with no pylons and no coach's whistle.
But, soon, whether in the first round or second round, or at the Frozen Four, it will end. Boom! Just like that. It will be over.
He will never again play as meaningful a hockey game. It is terrifically sad and heavy on the chest but also a time to treasure and reflect on friends, laughter, brotherly love and the devotion of Mom and Dad. And to possibly, hopefully, go out a winner, kissing that NCAA championship trophy in Philadelphia.
CommentsWrite a Reply or Comment: