Home
›
Blog
›
Sport
› Our experts weigh in on four of the biggest questions in NASCAR this week: – ESPN
Our experts weigh in on four of the biggest questions in NASCAR this week: – ESPN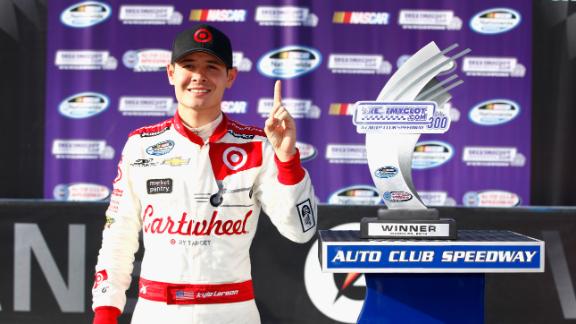 NEXT VIDEO
Our experts weigh in on four of the biggest questions in NASCAR this week:
Turn 1: Five races, five different winners. Are points suddenly looking a lot more important with the Sprint Cup Series on pace to exceed the 16 drivers allowed in the Chase?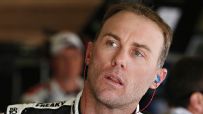 Ed Hinton, ESPN.com: Nothing "sudden" about it. Points are why we've been writing the disclaimer that a win "virtually" or "all but" guarantees a Chase berth. That's only if a driver is in the top 30 in points. Kevin Harvick, who has a win, has plummeted in the standings, down to 25th so far. You figure his luck will change, but if it doesn't, he could be in danger of falling out of the top 30 and negating the one win. As I wrote last week in a column, it's very early, but a different winner in each race so far keeps the tour on pace for more than the 16 winners, at which "win-and-you're-in" cuts off. Points don't matter as much as they used to — which is a great thing — but they do still matter.
Brant James, ESPN.com: Points are looking important, but they were always going to be, and this new system skews our view of what a season is anymore. The Sprint Cup season is 5 weeks old and has featured five winners. All but one has been among the normal cast of regular victors. Dale Earnhardt Jr.'s win in the Daytona 500 would be the noteworthy exception if not for his strong finish to the 2013 season. At some point, trophy hoarders will begin piling up multiple wins and about a dozen drivers will advance automatically. When it gets interesting is when someone like Marcos Ambrose wins on a road course or Kyle Larson nabs a first Cup trophy. Then the musical chairs music starts playing faster.
Ryan McGee, ESPN The Magazine: My flight out to Fontana was packed with crew guys, and we talked about this at length. Everyone expects the winners' streak to slow down at some point because everyone assumes that at least one of the superstars will get on a hot streak and hog a wad of the wins before the Chase. But there was a lot of discussion about the [different] winners' streak continuing because of teams changing their approach, especially come this summer, and really rolling the dice for wins. Regardless, points talk hasn't completely vanished. The guys who win are still talking about Chase bonus points, and the guys who haven't won are still talking about earning points so they can get one of those non-winner slots in September.
John Oreovicz, ESPN.com: Less than 20 percent of the way into the 26-race Chase buildup, it looks as if we could be on pace to get 16 or more winners, but that could also change very quickly if Jimmie Johnson, or someone like Dale Earnhardt Jr. or Brad Keselowski gets into his stride and reels off two or three wins. Seasons with 16 winners have been rare, so points were always going to be important. And, for drivers running near the front consistently enough to be in the top 10 in the points, a win is eventually going to fall their way.
Marty Smith, ESPN Insider: Teams never stopped considering points. Why would they? Dale Earnhardt Jr. would've taken the 2013 championship were the new system in place last year. He had zero wins. If that doesn't mean points are still important, what does? I enjoyed a lengthy conversation with Steve Letarte in the 48 car garage stall on the morning of the Daytona 500. I told him, 'Win today, you'll have a hell of a lot of fun the next 25 weeks.' He laughed, and joked if they did win the Daytona 500 they'd probably just park the car early at Sonoma and go have some wine. He did tell me then, though, that points were still very important, just not quite as noteworthy as they were before for drivers and teams that win in that opening 26-race span. Looking at just the modern era (since 1972, when the size of the race field was regulated and there weren't major discrepancies in different drivers race to race), the most winners in the first 26 weeks is — you guessed it — 16, in 2003. (M. Waltrip, D. Jarrett, M. Kenseth, B. Labonte, R. Craven, Ku. Busch, R. Newman, D. Earnhardt Jr., J. Gordon, J. Nemechek, J. Johnson, T. Stewart, R. Gordon, G. Biffle, K. Harvick, T. Labonte). It has happened only once — once! — in four decades of NASCAR. Points never stopped mattering.
Turn 2: He won Saturday and took his best shot Sunday. How good is Kyle Larson going to be, and how soon will he win a Sprint Cup race?
Hinton: Let me edit the sentence for brevity and accuracy: How good is Kyle Larson? From here, it's only a matter of how good Chip Ganassi's equipment lets Larson show he is at the Cup level. Larson's Turner Scott equipment at the Nationwide level is more than adequate. The last time I saw as magnificent a driving performance as Larson's in the Saturday Nationwide race was Jeff Gordon in the 1999 Daytona 500, when 42 drivers were working against him out of resentment for his championship and record-tying 13 wins in '98. And that was in a plate race. Larson's brilliance is showing on unrestricted tracks, where most of the races are run. Read into this what you will: The owner of the best — and highest-paying — team in NASCAR, Rick Hendrick, came to Victory Lane to congratulate Larson on the Nationwide win.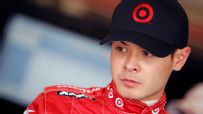 James: Very good and coming fast. Very rarely does a driver live up to the sort of hype that preceded Larson. Even rarer is a driver who does it so quickly. There is the sense that big things will begin happening in bunches when he makes that next career leap into Victory Lane at a Sprint Cup race. And it feels as if it will happen this season. Tony Stewart and Jeff Gordon and all his now-counterparts who predicted greatness appear to have nailed this one. Now they have to contend with him, it seems, for the rest of their careers.
McGee: Really good. And no one should be surprised after the way that guys like Tony Stewart and Jeff Gordon have publicly gushed over him. And that was before he had won. There's no reason to think he can't win a race as early as this spring. I would have predicted that it was more likely to happen at a place like Richmond, but now I'm thinking it'll be on one of the mile-and-a-half tracks. Kansas seems to be place that rewards hanging it out on the edge, so circle your calendars.
Oreovicz: Longtime followers of USAC racing say Larson is the best prospect to come along in 20 years, since Jeff Gordon and Tony Stewart in the early '90s. Dominance in USAC is a pretty good indicator of NASCAR potential, and Larson's Cup career is off to a great start. His results have improved every week; he hasn't made any glaring mistakes; and he was downright electric at Fontana. He didn't put a wheel wrong in a thrilling final 10 laps in the Nationwide race, and did you see that last-lap run he had on leader Kyle Busch in the Cup race? His racecraft needs honing for the big leagues, but a Cup win this year isn't out of the question.
Smith: When drivers at every level of NASCAR and myriad diverse racing series all over the world tweet congratulations to a young man on his first Nationwide victory — not Cup, Nationwide — you know he's special. That's what happened Saturday after Larson won a thriller over Kyle Busch and Kevin Harvick. Jeff Gordon and Tony Stewart have gushed over Larson's talent for a few years. That's a quality endorsement if ever there was such a thing. He's the real deal. His car control is special. I said Saturday evening that he'd win a Cup race in 2014. He almost made me look like a prophet Sunday afternoon. He'll win one this year. Betcha.
Turn 3: Was there anything wrong with the tires? Or were teams simply refusing to take the new racing package into consideration when setting up their cars and tire pressures?
Hinton: Check my Monday Rundown for the complete answer. The only thing "wrong" with the tires was that Goodyear wasn't prepared for the teams to cheat like crazy, dangerously, on the air pressures, as they do nearly every week, but this time on a worn surface that eats up tires. At Fontana, Goodyear recommends 20 pounds in the left rear. The "victim" teams were running 12 pounds, according to crew chief Dave Rogers, who played it safe with Kyle Busch and sent him to the win. Goodyear's only error was in not saving the risk-takers from themselves.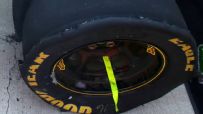 James: Jimmie Johnson and Chad Knaus certainly aren't convinced, after being undone by tire maladies in consecutive races and losing an almost certain win Sunday at Fontana. In the strictest sense, tires — as in equipment — failed, and equipment isn't supposed to do that in sports. But racing isn't like other sports, and the nuances of tires and asphalt and air pressures and downforce and new aero packages are all part of the puzzle in putting on a show in which someone ultimately walks away with a trophy. With NASCAR and some high-profile drivers — including Kurt Busch and Dale Earnhardt Jr. — backing Goodyear's assertion that the tire was sound and was being abused by teams, it seems up to drivers and crew chiefs to adjust.
McGee: C. All of the above. We did a piece for "NASCAR Now" about this after the race, and the opinions were pretty predictable. The guys who had trouble pointed to the tires, and in some cases the track surface. Goodyear pointed to the aggressive setups and air pressures. And the guys who finished well with no tire issues pointed to their ability to adapt to the conditions. In the end, we had a still-new car with several hundred pounds more downforce than last year on a track that's as rough as old Darlington in a lot of spots and a lot of teams running really low air pressures looking for speed. When I talked to Brad Keselowski in the garage, he said there were five-six races left on the schedule that he could see this same perfect storm potentially happening again. Then he said his team would have to change its approach for those races. And then he also said Goodyear also would need to change its approach. No, that's not a simple answer or solution. But it is the answer and solution. No one wants to see that situation again.
More from ESPN.com

If you want to talk about the state of racing — any kind of racing — it's hard to find someone better than Mario Andretti, writes John Oreovicz. Story
---

There were tires blowing out left and right, but not for everybody on Sunday in the Auto Club 400. Kyle Busch and crew figured it out, then sailed to victory in Fontana, Calif. Story
Oreovicz: I don't think there was anything fundamentally wrong with the tires. I do think teams were trying to make their cars go as fast as possible on the tires they were supplied. That's what they are supposed to do, and it's unfortunate that potential issues with the tires were not identified until the race weekend. It's embarrassing for Goodyear and for NASCAR when tire failures become a main storyline, but it is somewhat to be expected at a time when many teams are pushing the limit while still coming to grips with the 2014 rule changes.
Smith: Classic he-said, she-said. It all depends who's talking. Some drivers and crew chiefs say (openly) that Goodyear has a major problem that's not going away. Goodyear and NASCAR note that not every team had a tire issue, just the aggressive ones. We could go on for days about this and not get anywhere.
Turn 4: Five distinctly different tracks in five weeks. Rate the racing on a scale of 1-10 so far this season, and tell us why.
Hinton: An 8, if you award two points for an intriguing race and 0 for a yawner. Four out of five isn't bad; only Phoenix put everyone to sleep, and that's because Kevin Harvick had a car that was dialed into a different ZIP code. Interesting finishes are what seals a race in our memories, and they've been fascinating other than at Phoenix. NASCAR foul-ups have added to the intrigue — take the official inadvertently leaning on the caution-light switch at Bristol last week, then another official getting his uniform caught on something and failing to reach the pit-road green light at Fontana on Sunday — but hey, aren't NASCAR snafus a part of the show we've come to expect from time to time?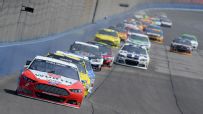 James: 7*. Always an asterisk in this sport. Why? Weather stoked the crazy factor multiple times so far, most notably in a frenzied finish to the Daytona 500. The tire conundrum of recent weeks has played a major role, helping wreck good race cars, and almost certainly keeping six-time and defending series champion Jimmie Johnson out of the Chase for the Sprint Cup field for at least another week. That said, the racing has been exhilarating at times no matter the catalyst, and fans pay for the what more than the why.
McGee: 8. We've had great finishes. We've had big names win. We've had young guys make some noise. We've had some controversy. I'm not sure what else you'd want, other than a little less rain.
Hinton: Monday Rundown

Many had trouble with tires at Fontana; others didn't. Luck of the draw? No. Staying clean came because of a word from the wise, writes Ed Hinton. Story
Oreovicz: I'm gonna give it an 8. The races are still too long, but the racing itself has been really good a lot of the time. It's improved over a year ago, which already was viewed as an improvement from the COT era. The rule changes have resulted in different teams hitting the sweet spot with their setups at different times throughout this spectrum of tracks, and that has made most of the races interesting to watch. Having Dale Earnhardt Jr. in the mix for the two best finishes of the season — and coming out on each side of the coin in dramatic fashion — certainly hasn't hurt, either, especially in terms of buzz.
Smith: 8.4. Daytona: 9.5. Before the rain, it was mundane. After the rain, it was a 10. Most of the race was run after the rain. Phoenix: 8. Harvick dominated, but Phoenix is a shorter race and produces an innate sense of urgency. Las Vegas: 8. Harvick again was fast, and Dale Earnhardt Jr. and Brad Keselowski put on a great show at the end. Bristol: 9.5. Again, after the rain, it was a great, great race. Three wide in the toilet bowl. California: 7. Restarts were crazy. Tires were suspect. Major contenders had major issues. The green-white-checkered finish was pretty awesome.
CommentsWrite a Reply or Comment: Cancel reply
About Us
Free Shipping
If your order is $35 or more, you may qualify for free shipping. With free shipping, your order will be delivered 5-8 business days.
Contact Us