Winning may not be everything – ESPN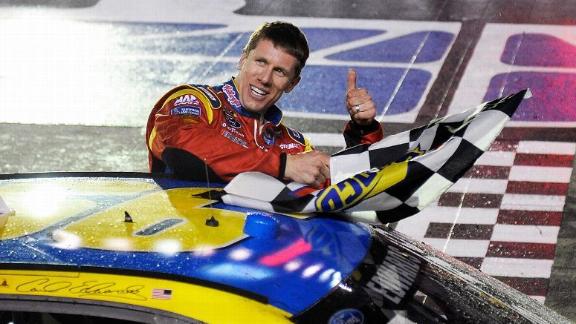 Edwards On Bristol Win, New Chase Format
NEXT VIDEO
On one hand … but on the other …
On one hand, NASCAR's championship format continues to click beautifully. Four races, four winners, four Chasers — probably.
On the other, early as it is, the pace is a different winner each week. There are 26 races in the regular season. So theoretically there could be as many as 26 different winners for a new format that needs 16 or fewer to succeed. Again, it's very early, and we all know there won't be 26, but what if there are more than 16?
More from ESPN.com
A Bristol race with no hurt feelings? Does the Cali race need to come before Bristol? Does the Nationwide Series need a shake-up? Is Roush Fenway Racing back? Our guys have at it. Story
---

An icy rain out of nowhere and a mystery last-lap caution led to a head-scratching finish Sunday at Bristol Motor Speedway. But Carl Edwards will take it. Story
On one hand, the four probable qualifiers for the championship are ideal:
• Dale Earnhardt Jr., who until Sunday's stumble was not just NASCAR's most popular driver but its hottest.
• Kevin Harvick, whose candor and temper are often the cayenne and tabasco that keep the season's soup from being bland.
• Brad Keselowski, just as candid, and the regular guy to NASCAR fans in their 30s and under, the one they would like to have a beer or three with.
• Carl Edwards, the most polished of the lot, the potentially sublime representative of the league on TV talk shows as champion.
On the other hand, what if one of these big, popular names and his fans exult over the supposed lock all regular season, and then get tripped up and knocked out at the end in a glut of winners? As my late wife used to say to children playing rough, "Somebody's going to end up crying."
Time to drag out, but quickly move on from, the details of the new rules. To synopsize, a single regular-season win guarantees a driver a berth in the Chase, if he or she finishes the regular season in the top 30 in points, and unless there are more than 16 winners, at which point the tie-breaker to make the 16-driver field would first be number of wins and then season points. The only way a winless driver could make the Chase in that scenario would be to sit atop the point standings at the end of regular season.
Sixteen-plus winners after Richmond on Sept. 6 is of course unlikely. But consider that just last season, there were 17 winners over the year. It's just that four — Keselowski, Jamie McMurray, Jeff Gordon and Denny Hamlin didn't win until after the regular season, so that made only 13 who would have qualified for the Chase as race winners under the new format.
(And of course Earnhardt, hypothetically, would have blown up the new format by actually winning the championship on points without a single race victory.)
In 2011, there were 18 winners, although Tony Stewart didn't win a race in the regular season, but won five of 10 Chase races and the championship. Also, Clint Bowyer and Kasey Kahne didn't win until after the Richmond cutoff.
The only time in modern-era NASCAR that there were an even 16 winners after the mid-September cutoff was 2003, when there were 17 winners overall. But Bill Elliott didn't win until Rockingham, N.C., on Nov. 9.
(The only other time in all NASCAR history that there were 16 winners after 26 races was 1961, but that's comparing apples to kumquats — they ran 52 races that year, yielding 19 different winners. And any sort of Chase cutoff wouldn't have been at 26 races, but more like 37 or 38.)
But the point here is, unlikely and unprecedented as 16-plus may be, it is entirely reachable. It's all in the timing.
If you're like me, you have mischievous what-if thoughts, just curious to see what would happen in a roiled NASCAR pot. You quietly pull for such scenarios as 16-plus. You just can't help it, in a league where, so often, there is some snafu to talk about.
A prime example was dodged just last Sunday, when a NASCAR official inadvertently, needlessly, turned on the caution lights near the end of the Bristol race. That would have fouled up things royally with an unnecessary restart, had not merciful rain come in to end the thing quickly under caution.
If not for the rain, we would still be talking about the mess. Hell, we'd still be talking about it in September, even November and beyond, if Carl Edwards had been robbed of the win (and possibly a Chase berth) by an unwarranted restart.
With NASCAR, in the immortal words of the late Gilda Radner on Saturday Night Live, "It's always something."
When you've seen NASCAR scramble often enough after tripping on its own feet (or schemes), exasperation eventually becomes amusement.
Now granted, the current pace of four different winners in four races doesn't mean a whole lot. That, or even more parity, has happened eight times in the 14 seasons of this millennium. In 2000 there were 10 in the first 10, then in '01 six in six, '02 four in four, '03 nine in nine, '05 five in five, '11 five in five, '12 four in four and last year five in five.
But even in the better-parity years, they had to get to four in four, like this year, first. So the Cup tour is on pace.
On one hand, it would be nice to see the new win-you're-in format work as beautifully as it has worked thus far. NASCAR needs that, sorely.
On the other, you'll pardon my mischief if I quietly pull for another different winner at Fontana, Calif., this Sunday, yet another at Martinsville the next week, Texas the next, Darlington the next, on and on and on, just as far as win-you're-in can go …
And beyond.
CommentsWrite a Reply or Comment: Cancel reply
About Us
Free Shipping
If your order is $35 or more, you may qualify for free shipping. With free shipping, your order will be delivered 5-8 business days.
Contact Us